UI Messenger
UI Messenger is capable of receiving and transmitting messages using AX.25 UI frames. It uses the UI/KISS Driver to exchange data with any KISS mode TNC. When a message is received a window will pop up with the received message.

In addition to exchanging messages, you can also see the position of yourself and other stations in real time on a map. It also supports the use of a GPS receiver so you can see your position change in real time and broadcast it to others. UI Messenger can also be used to monitor and log AX.25 UI frames from your local RF network.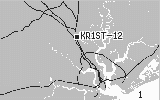 Combined with a second Cybiko running UI Gate, you can create your own 900MHz wireless network. In the near future I hope to add weather and other features.
To learn more about UI Messenger and its features, please download the manual below: